Why Every Virtual Assistant Needs a Blog
Does a virtual assistant need a blog?
I get asked this question a LOT.
When I first started my Virtual Assistant business, I would occasionally write blogs for a few reasons:
I loved writing, so it was a form of an outlet for me
It was a way for clients to see my work first hand
It gave me something to post on my Facebook business page
I had no idea at the time that blogging would become such a HUGE part of my life and business.
When it comes to the topic of growing a profitable blog, my FIRST reference is my good friend Suzi from Start a Mom Blog. 
She started her blog completely from scratch (WHILE at home with her kids) and grew it to a $20,000 per month income.
I asked her to join me for an interview and to guest post here on The Virtual Savvy blog, and I was so happy she agreed.
You are going to LOVE this. I guarantee it.
I interviewed Suzi from Start A Mom Blog on
Why Every Virtual Assistant Needs a Blog.

Check it out!
Here's what Suzi had to say about building a blog as a Virtual Assistant
The world we live in today is amazing. While you're building your VA skills in a particular field, you can also be building a business.
Isn't that awesome?
While you learn, you can earn! In other words, while you're a virtual assistant, you can be charging for your services, learn more skills, charge more, and actually start teaching those skills on your own blog, too! Hello, second income stream!!
Being a virtual assistant opens up a world of possibilities to you! You can work with top entrepreneurs and earn while you do it.
As you grow your virtual assistance business, I highly recommend establishing your own blog and creating a second, somewhat-passive income stream.
There are SO many reasons your blog can benefit you. Your blog can:
Bring you more clients.

Showcase your work as VA.
Generate affiliate income through products and tools you recommend.
Help you teach others and make passive income through online ebooks or courses.

For New Virtual Assistants
If you're a new Virtual Assistant, a blog can help you by acting as your online resume. So if you're still a newbie virtual assistant, your blog can be a way to get more clients. It's a place that can showcase your amazing work, testimonials from past clients, and integrate a contact form.
For Experienced Virtual Assistants
You know all those skills you've learned as a virtual assistant? Teach them! Create mini-courses, focused ebooks, or blog posts, and help others. You can share your blog posts on social media to get traffic back to your own site. You know that amazing work you're doing for your clients — why not do it for yourself too? Build content, grow an email list and establish other income streams so you can design the life you want to live.
On my blog, I teach moms how to start a mom blog – I offer free guides, templates, and courses. It's a very niched and focused site. Your blog can either be highly focused on the amazing skills you have as a virtual assistant and make money through ebooks and courses, or it could serve as a broader topic blog where you can let your creativity run wild and make money through ads and affiliate marketing.
What is a Blog and How do I Start One?
Your blog is your home on the internet. It is where you have written blog posts, videos, products, and images. It is fully under your control unlike a social media page on Facebook or Pinterest. You control the content and customization on your blog.
Your blog can serve as a traffic source to your products and services. And it can make money passively through affiliate marketing and advertisements.
But first, How DO Blogs Make Money?
Ads
Ads are easy to apply with no requirements. Some larger companies do require a minimum number of page views.
Google Adsense – no minimum page view requirement, a good place to start!

Sovrn – no minimum page view requirement
Companies that manage your ads for you (100K page view minimum) —
The Blogher Network – manage your ads for you, increases income, but they have a 100K page view minimum

AdThrive – manage your ads for you, increases income, but they have a 100K page view minimum
Affiliates
Affiliate marketing is when you market someone else's product, and you get a commission when a reader makes a purchase through your affiliate link. It's a win-win for you and the affiliate company. Most beginning bloggers sign up for the Amazon affiliate program because it's free to join and you can recommend thousands of products that fit your niche perfectly.
Some companies that offer affiliates are:
ShareASale.com – Companies like Shutterfly and Tailwind (best tool to schedule your Pinterest pins!)

FlexOffers.com – Companies like Bloomingdales, Macy's, and Priceline

Amazon.com – Millions of products – and most beginning bloggers start here!
Sponsored Posts / Blog Networks
This is a blog post that you write for your sponsor and publish on your own blog. Your sponsor pays you to share it with your readers on your blog.
Popular Blog Networks that provide sponsored posts:
Blogher

The Blogger Network

IZEA
Products
This is definitely one of my favorite methods of making money with a blog. Providing your readers with something you created provides real value to them. If you've learned the shortcut from point A to point B that solves a real problem, people will line up to buy it from you!
Products you could offer:
Sell an ebook

Create Printables

Make and sell handmade crafts

Provide Stock Photos

Offer an online course, training or coaching services

Audio/Video
Services
Of course, you're familiar with this method. You can offer your services: email management, stock photography, marketing, printable or content creation, etc., and make money that way.
If you're offering services, your blog serves as your online resume and client magnet. It's also super marketable. You can write blog posts showcasing your skills and share them on social media to get more clients.

How do Blogs get Traffic and Page Views?
There are countless ways you can generate traffic to your blog. You can work on SEO (search engine optimization), social media (Facebook, Pinterest, Youtube, Instagram) or outreach.
The easiest way for most beginning bloggers to get traffic quickly to their blogs are either through Facebook groups or Pinterest. Facebook traffic is great, but it's a quick hit. Pinterest traffic tends to stay a little longer and grow as your blog grows.
I share my exact strategy that I use, my semi-looping Tailwind and Pinterest strategy, that has grown my blog from zero page views to over 70,000 page views per month!
Common Questions About Blogging as a Virtual Assistant
As a blogger with a wonderful virtual assistant, it took me a few years before I realized I needed the help. I wish I took the plunge earlier. I asked my virtual assistant what questions she personally had regarding blogging so I can answer them for you below.
What do bloggers want help with most when it comes to their blog?
In the beginning, most bloggers need help with creating content and getting more traffic. As they grow, their need shifts to customer service and email management.
What's an easy way to understand analytics when you're not tech-minded?
Learn as much as you can. If you invest in yourself, you can share that on your blog (online resume) or with your existing client and become even more valuable. Invest in courses on Google Analytics, Tailwind, and other online services. You can also grow a huge knowledge base just off of free videos on YouTube. Never stop learning.
Are you comfortable outsourcing copywriting for blog posts as well as emails?
This depends on the blogger. Some may be ready to outsource this personal part of the business immediately, others may need to read your written voice first before outsourcing content creation.
What skills do bloggers look for in a virtual assistant?
I look for someone who is quick to respond to emails and messages, who adapts to my voice easily, who thinks of little things I may be overlooking, and who completes the assigned tasks promptly. Trust is also a huge factor.
That was the #1 reason why it took me so long to get my own virtual assistant. It was a big trust thing to allow someone else into my inbox. But after I heard great reviews and testimonials from other bloggers, I was ready to hire her.
Should your blog name be geared toward your services, your name, and/or your interests?
As an established blogger, what gives me the most trust in a virtual assistant is seeing a focused blog. If you blog about parenthood, fashion, food and a bit of virtual assistant on the side – I might be turned off as a future client. But if I visit your blog and it's focused on your skills and services, that fills me with confidence.
The content of your blog is more important than the name.
You could use your own name – that gives you the flexibility to change directions.

You could mention your services – "The Email Management VA" – which gives you more credibility on that skill.

You could be a bit more vague – "Productivity Booster" – this allows you to both showcase your virtual assistant skills and teach on the topic too.
If in doubt, use your name. It's always great to have your own name domain name. As soon as I got serious about blogging, I went and bought suziwhitford.com – it doesn't have much on it right now – but at least it's mine.
What are the First Steps to Starting a Blog?
If you want to grow a passive income stream as your building your virtual assistance business, blogging is the perfect solution! I have a free course that walks in detail through what to blog about and how to monetize it. It's called The Blog Plan, and it's designed to help you plan your future blog! You can enroll in the course for free here.
You're on the path to grow a wonderful business for yourself.
Continue to invest in yourself as a virtual assistant and your path to success will be quick.
---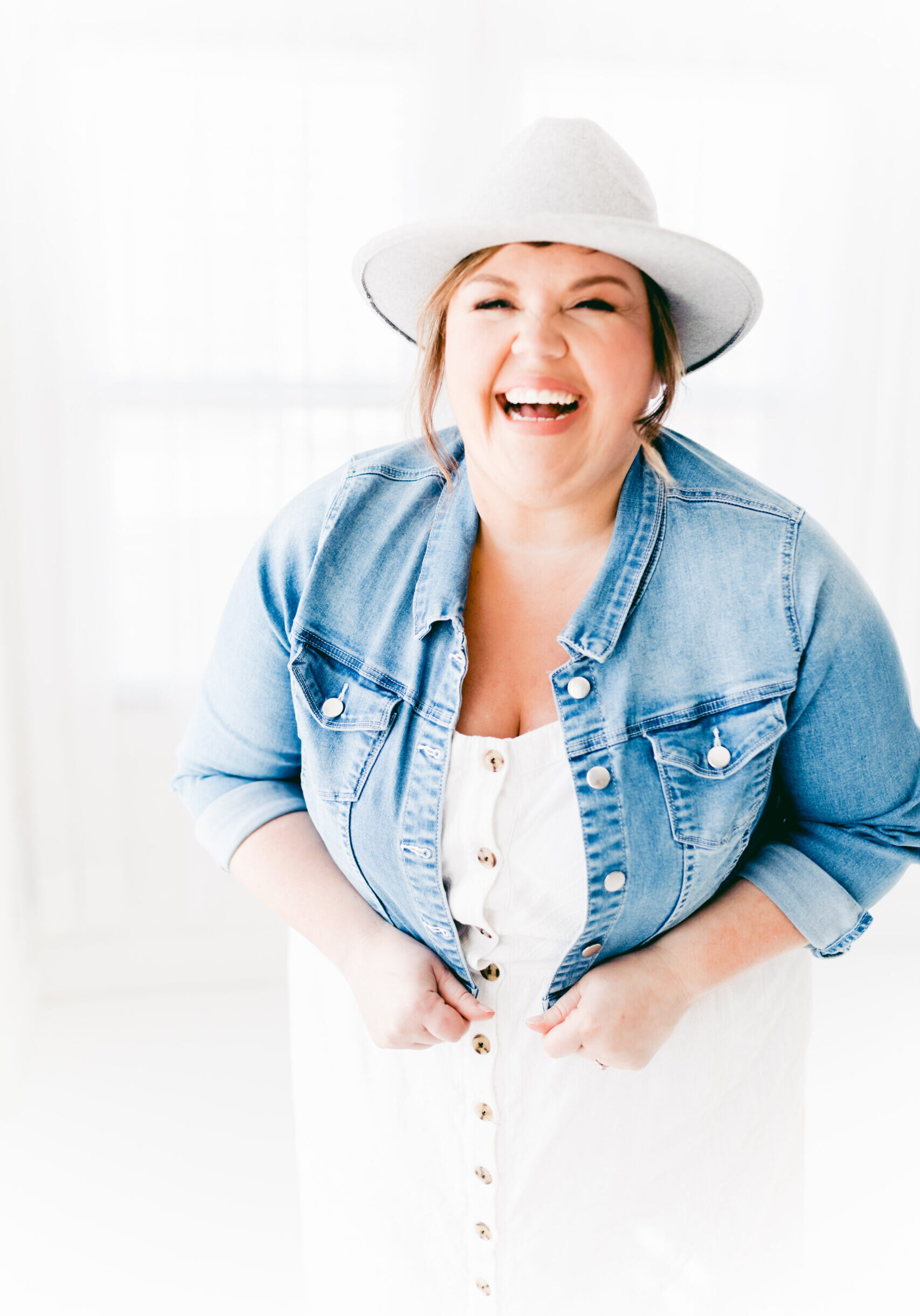 Abbey Ashley is the Founder of The Virtual Savvy. She helps aspiring virtual assistants launch and grow their own at-home business from scratch. She's since gone on to grow a multi-six figure business and retire her husband ALL from her at-home business. It's now her passion to help others start their own VA business so they can taste the freedom and flexibility of entrepreneurship as well.
This free one-hour training combines thousands of hours of research, years of experience in growing a virtual assistant business!
Read posts from our most popular categories.
*This post may contain affiliate links. This means I may earn a small commission (at no cost to you) if you sign up for a program or make a purchase using my link!
Do you ever feel STUCK in your business?  Like your time is stretched thin and clients keep coming in that just don't value your worth? Maybe you want to scale your business but you just don't know what to do next? If you're answering " YES" over there – I have just the thing for…
Wondering how you can make money working from home as a virtual assistant? The best way to begin is by starting your own VA business. I remember when I first started mine in 2015. I didn't even know what a VA was.  My friend had just told me about it and after doing some research,…
Curious what a day in the life of a…
Read More
Sorry, we couldn't find any posts. Please try a different search.