Choose a name for your Virtual Assistant business… TODAY!
Does anyone else feel like naming your business is a bit like naming your child?
Seriously – you read all the books. You have a list. You go over your "favorites" with those you love. You go back and forth until you almost drive yourself crazy with this major decision.
This is totally how it was when I was naming my first daughter. I thought of all these long beautiful names. She would be professional with her long name and trendy with a nickname. I had a list of 20 names that would be perfect for our little girl.
My husband hated all of them.
He had read a Forbes article that read that women CEOs generally have short names, and seriously couldn't get his mind off of it.
So, I went back to the drawing board. We finally agreed on the name for our daughter:
Evie Mae Ashley.
It wasn't until after we had her that I notified my husband that Evie Mae isn't quite the typical "CEO" name. But alas, we were both happy and our southern families were too.
Sound familiar?
Maybe not. Maybe you are one of the lucky ones – you woke up in the middle of the night with the *perfect* name. It's been the one thing you've had in place since the beginning of your biz.
If you're not so lucky (like me!) then I'm here to help you choose a name for your Virtual Assistant business… TODAY!
BEFORE YOU READ FURTHER
The name of your business is, most times, the first thing potential clients will see about you. It's important to choose a name that you are happy with and is a reflection of you and your personality.
But please … PLEASE do not let naming your business become a stopping point for moving forward. I've seen virtual assistants get so caught up on naming their business that they never get around to getting clients.
I'm convinced that if your marketing is good enough – your name could be "The Virtual Assistant" and you could still get clients.
So please – choose the name of your business. Use this guide to help. But if you are two months into your biz planning and you are still undecided on a name – JUST CHOOSE ALREADY!
*Rant over*
Here's the happy news (yes, I can be happy and not just yell in all caps, thank you)…
Like all good things in life, you have OPTIONS!
Watch This Video Where I Talk About My
Favorite Way to Choose a Name for Your Biz!
I'm going to walk you through the 3 different ways you can name your virtual assistant business so that you will accurately reflect who you are as a person (and a business!) and get the attention of the clients you are trying to reach.
Let's take a look at each of these options:
OPTION 1: CHOOSE A FUN / UNIQUE NAME
Let's start out by thinking of some fun BUZZWORDS to describe a virtual assistant business.
What's a buzzword? A buzzword is simply what comes to mind when you think about your business and what you will be doing in your business.
Here's a list of buzzwords that I've thought of for a VA Business, but feel free to come up with your own (especially as they relate to your personality, geographic, or target audience):
Virtual
Assistant
Creative
Create
Desk
Coffee
Cubicle
Write
Social
Notebook
Click
Work
Now – let's pair some of these Buzzwords with words that you would use to describe yourself of your ideal client:
Fun
Quick
Jolly
Happy
Fresh
She
Determined
Social
Crafty
Simple
Let's say you were going to focus on photographers for your VA business. You could even brainstorm some words about this ideal market.
Shutter
Lense
Click
Frame
"Say Cheese"
Ok – you get the hint, right? You basically want to come up with a huge spreadsheet of descriptive words.
Then – the fun part. Start pairing those words together!
Here's a few names I came up with just from pairing some of the words above together:
Crafty Cubicle
She Writes
SimpleDesk
Jolly Virtual
Shutter Click
Click Creative
Notebooks and Coffee
Note: these names may or may not already exist and are not intended to be copied. My goal here is to get you thinking!!!
It's your turn!
Take out a sheet of paper, set a timer for 20 minutes, and LET YOUR MIND GO WILD! This is YOUR business so be creative! Think of the words you would want to use to describe your business.
There's no right or wrong with choosing what you want to name your business. Some of the names that you write down will be ridiculous. It may take 100 bad names before you get to your good name!
If you are at your wit's end and still can't think of a name. Don't worry – I've still got two more options for you!
OPTION 2: CHOOSE A PROFESSIONAL NAME
It's time to go pro.
It's ok if you can't think of the cute-sy "oh my gosh how did you ever think of that" name for your business.
If you get too caught up in option one and want to go throw your computer out your second story bedroom window… let's move on to the next option.
Another option is to use a professional name for your business. This may even be a better option for you – especially if you are looking to cater toward more professional clients, client real estate or insurance agents.
We are going to use a similar method as before – so go ahead and take out that piece of paper again!
You are going to first think of some titles for you and /or your business. Here's a few ideas to get started:
Virtual Assistant
Virtual Assistance
Assistance
Creative
Professional Services
Collaborations
Now, you can use these more professional terms to pair with some adjectives. How would you want someone to describe you or your business? What would you hope people would have after working with you?
Here's a few ideas:
Integrity
Results
Committed
Determined
Growth
Let's put them together again. Here's what I came up with:
Integrity Assistance
Committed Creative
Integrity Collaborations
If you are getting stuck, try adding your first or last name into the mix.
I grew my multi-firm VA business to what it was under the name Ashley Assistance (my last name is Ashley, btw). It was simple, easy to remember, and professional. Win-win-win.
OPTION 3: CHOOSE TO SELF-BRAND
The third option is to simply use your name, because you're one of a kind, right?
I've always been a fan of self-branding. It can be so versatile. If you think you may want to venture into coaching or some other creative service in the future, or if you haven't fully defined who your target audience is going to be yet, self-branding may be a great choice for you.
I'll use some real-life examples to show off some self-branding mavens:
STILL STUCK?
If you are still having trouble naming your VA Business, take a look at some tips from the VA Savvies Facebook community:
I actually reached out to some of the FB groups I was in and told them the image/impression I was trying to make and they helped me with a name: The Juggling VA. My husband helped me with my logo and then I finalized it with help from more FB groups.
Angela Reeder | The Juggling VA
---
I selected the name Productive Co. I didn't want something too literal as it may expand and transform into something slightly different over the years. I needed something a little more flexible but still wanted the name to give some description of the business. I have a masters in operations management and that's because I'm passionate about smoothing out operations, putting systems in place, etc. The common thread through all of those things is productivity and efficiency.
Rae Targos | Productive Co.
---
My business name is Virtual Assistant Ninja and I think the name just speaks for itself. I feel the name shows my personality and how I work. Ninja suited best in mind as it was what I thought of myself in all the skills and jobs I have achieved in the past – getting sh*t done in the most efficient and accurate manner. 
Rachel Manuel | Virtual Assistant Ninja
---
If you're still having some trouble coming up with a name for your virtual assistant business, be sure to check out the Shopify Business Name Generator. This free site allows you to generate names based off of keywords (or those handy buzzwords you thought of earlier) and also check the domain availability at the same time. Handy!
WHAT NOW?
By now, you've hopefully, got your name picked out for your new VA biz. POP THE BUBBLY AND CELEBRATE!!!
Your job isn't quite done yet though…
Now, the next step is to make your biz name LEGAL.
It's not as hard as it sounds, and I've created a step-by-step checklist to help you out. Click here to download the checklist. I'll give you the tools you need and the action steps you need to take to make sure your biz name is legal!
You'll learn:
1. How to make sure your name isn't already trademarked
2. How to purchase a domain for your business.
3. How to (and if you need to) register your business name.
RECAP
Let's recap the highlights from this post:
Don't let choosing a name for your business stop you from getting clients!
There are three types of names you can choose for your VA business: fun/unique name, professional name, or self-branded.
Need help choosing your name? Reach out to the VA Savvies community for help!
Make sure your name is legal using the "Is my Biz Name Legal" checklist.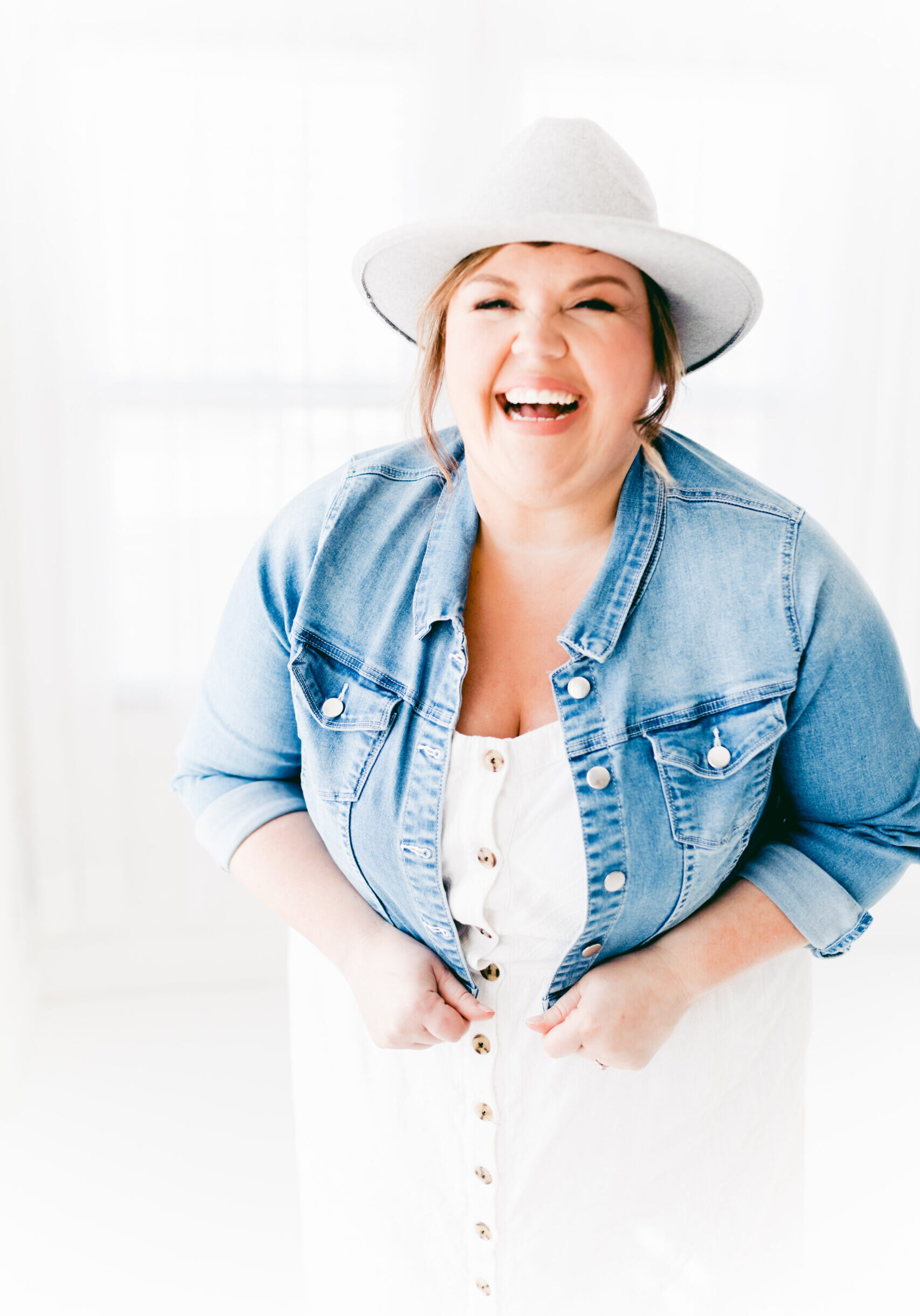 Abbey Ashley is the Founder of The Virtual Savvy. She helps aspiring virtual assistants launch and grow their own at-home business from scratch. She's since gone on to grow a multi-six figure business and retire her husband ALL from her at-home business. It's now her passion to help others start their own VA business so they can taste the freedom and flexibility of entrepreneurship as well.
This free one-hour training combines thousands of hours of research, years of experience in growing a virtual assistant business!
Read posts from our most popular categories.
*This post may contain affiliate links. This means I may earn a small commission (at no cost to you) if you sign up for a program or make a purchase using my link!
Wondering how you can make money working from home as a virtual assistant? The best way to begin is by starting your own VA business. I remember when I first started mine in 2015. I didn't even know what a VA was.  My friend had just told me about it and after doing some research,…
Do you ever feel STUCK in your business?  Like your…
Read More
Sorry, we couldn't find any posts. Please try a different search.